By: TYLER ADKINS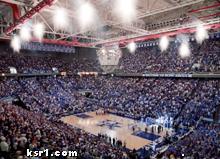 The Big Blue Madness ticket sale extravaganza has been announced for September 22nd, which is basically a holiday for Kentucky fans. Thousands of fans will camp out for a week in order to get free tickets and pack Rupp Arena for a glorified practice. The national media routinely covers this event and often uses this example of UK fanaticism to prove why they say UK fans are the best in college sports.
Another example often referred to was when 23,000+ screaming fans came to watch ESPN College Game day on February 13th, 2010. The glorified UK infomercial was held hours before the actual game, and the level of passion exuded by the Big Blue Nation led Jay Bilas to call it the best show "by far" the crew had ever been able to perform. Jay Bilas, during an interview after the show, said himself and the rest of the crew were in shock when they were told it had sold out. Did I mention it sold out in an hour?
Still, none of these commonly used examples completely grasps how much support everyone involved with the Big Blue Nation receives even when their careers at UK are finished.
Take Walter McCarty for example, the former UK basketball star whose UK career ended in 1996 after winning a National Championship. He is now releasing his second R&B album in November titled "Unbreakable," and he has been all over UK radio shows and websites promoting his new it, and UK fans have showed plenty of support via Twitter. The new album has nothing to do with basketball, but he is nonetheless still receiving enormous amounts of support for his new album from the Big Blue Nation.
However, the support does not stop with just the high-profile basketball and football teams.
Mallory Blackwelder is another great example of how UK fans support all former UK athletes. Mallory is a former UK golfer, and now professional golfer who has played in the US Women's Open and participated on the Golf Channel's reality show for budding professional golfers entitled "Big Break Ireland." Mallory said UK fans are always on Twitter and Facebook showing her support, especially through the elbow injury she is dealing with now that is keeping her sidelined for the rest of the season. But, her best memory was the premier party she had at Harry's in Lexington for the start of Big Break Ireland. Numerous UK fans came out to Harry's to show their support for the former UK golfer, most of whom she didn't know. In talking about the support she received, Mallory said: "It was really cool so many people came out to support me because they were fans of mine and fans of UK in general. Josh Teater (PGA Tour) didn't go to UK but he is a big UK fan and he came to support me too, which was really nice."
But the best example I have ever heard of UK fan support is from PGA Tour veteran and four-time PGA Tour winner Steve Flesch. Flesch, who is a former UK golfer and UKAA Hall of Fame member, has sported a UK logo on his bag for the duration of his career and the support has been reciprocated by one UK fan in particular. Curtis Branham and his wife live in Palm Valley, California and are die-hard members of the Big Blue Nation. Curtis shows up to all seven events on the PGA Tour's "West Coast Swing" to at least one round to support either Flesch or J.B. Holmes (another former UK golfer). Flesch said of Branham: "He was just this guy who started showing up years ago when I was young to at least one round of every event I played on the west coast. He has this white mustache and white hair, but he always had on a royal blue shirt and his blue hat with the white "K" and that kind of made him stand out. After seeing him every year we began talking and I found out he is a big UK fan like me and he turned out to be a great guy."
However, it wasn't as if Branham ever asked or wanted anything from Flesch, "He never asked for anything or was bothersome, he just came out to support me and show support for UK golfers, which I thought was really cool." Now Flesch leaves tickets for Branham and his wife whenever he plays in an event on the west coast, and even had them come to his wedding in Florida last year.
These are just a few examples of the type of support all former UK athletes receive even after their careers at UK are finished. Stories like these are what allows me not to worry when football season ticket sales are down, because I know when it becomes game-time at Commonwealth this season, there will be a packed stadium supporting the men wearing Kentucky across their chest.
The Big Blue Madness campout is just one example of what makes the Big Blue Nation the greatest fan base in sports; but it is not the only example.
As the former UK athletes I have spoken with attested, once you are a part of the Big Blue Nation, you are in it forever.